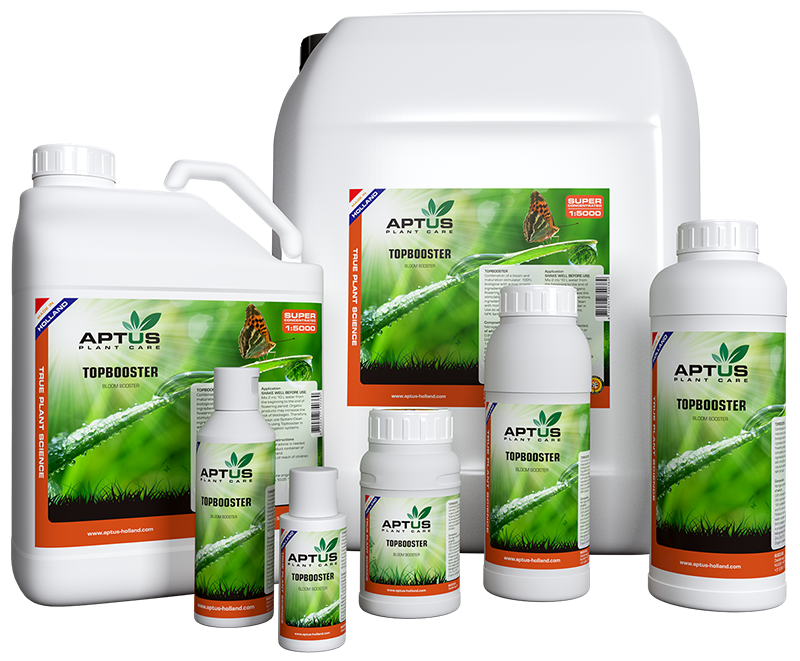 // BLOOM BOOSTER
Topbooster
Topbooster is a combination of a bloom and maturation stimulator. It is 100% organic with active ingredients that stimulate plant flowering response. The stimulation provided by the active ingredients produce larger fruit with more fibres, resins and sugars, which increase the quality of the end product. Topbooster helps improve the natural flavours while enhancing the appearance of your product.
How to use Topbooster
Topbooster contains a synergetic cocktail of active ingredients that stimulate the complete flowering process. We therefore advise to use Topbooster almost during the complete bloom phase. Use Topbooster as an additive next to a base NPK fertilizer.
Use 2 ml per 10 L of water (1:5000) from the second week of flowering until the last week.
Topbooster is a 100% organic product. Be careful with the use of organic product in drip irrigation systems. In such systems, organic product increase the risk of blockages. Therefore, always use System-Clean when using Topbooster in drip irrigation systems.
Topbooster contains
L-amino acids
Polysaccharides (sugars)
Trace elements: boron (B), iron (Fe), molybdenum (Mo)
Bloom promoting natural plant stimulants
Vitamin complexes produced by natural fermentation
How Topbooster works
L-amino acids aid in floral development and maturation
Potassium (K), iron (Fe) and other micronutrients assist floral development
Polysaccharides (sugars) stimulate nutrient uptake and microlife populations
Vitamins promote hormone production

Gibberellins for shooting
Cytokinins for cellular division
Tips from successful growers
Topbooster may be used at a slightly higher dose for even better results. Dosage can be increased during the cycle, from 2 ml up to 4 ml per 10 L of water
Do not keep Topbooster in your reservoir for more than 2 – 3 days in order to avoid biofilm buildup and blockage of irrigation drip lines