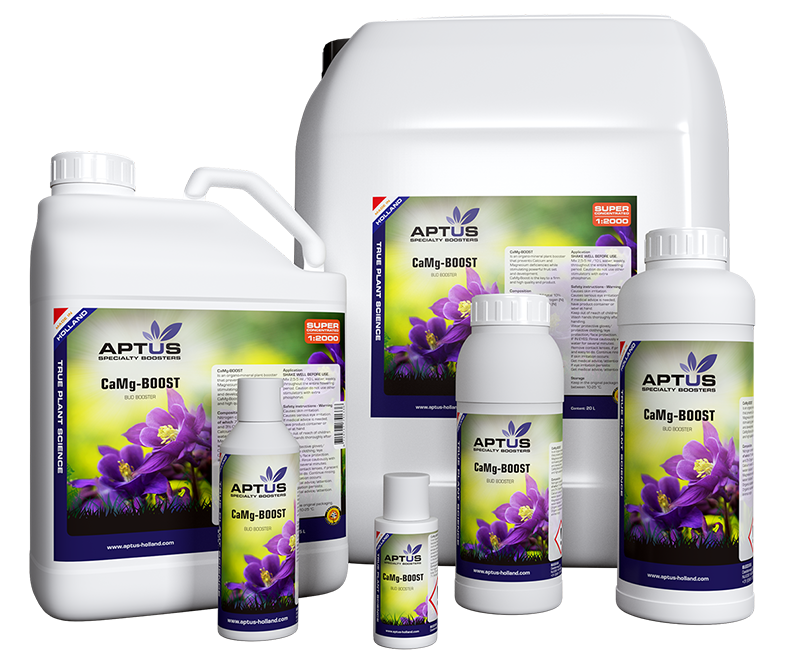 // BUD BOOSTER
CaMg-Boost
CaMg-Boost is an organo-mineral plant booster that prevents calcium (Ca) and magnesium (Mg) deficiencies while stimulating powerful fruit set and development. CaMg-Boost is the key to a firm and high quality end product.
How to use CaMg-Boost
In soil: Use CaMg-Boost once a week.
In coco/hydro: Use CaMg-Boost in combination with All-in-One Liquid every watering
When adding CaMg-Boost, do not use any boosters containing phosphorus other than Aptus.
Use 2,5 – 5 ml per 10 L of water.
Shake before use. Leaves no residue in the irrigation system.
Fully water-soluble.
CaMg-Boost contains
Organic nitrogen (N)
Calcium (Ca)
Magnesium (Mg)
L-amino acids
How CaMg-Boost works
Aids in plant structure and photosynthesis
Improves structure and firmness of fruits and flowers
Stimulates fruit set and floral development
Activates enzymatic activity
Higher levels of calcium and magnesium help raise internal plant pH to resist fungal attacks
Tips from successful growers
Use CaMg-Boost in combination with P-Boost & K-Boost in the last weeks to get maximum weight
Pay attention when you mix P-Boost and CaMg-Boost as they can react together. Always add one, dilute and mix then the other. In case you use a lot of phosphorus based products, then take care when adding CaMg-Boost as phosphorus and calcium mixed together in high concentrations may cause deposits and residues
Add CaMg-Boost when using All-in-One Liquid on hydro or coco