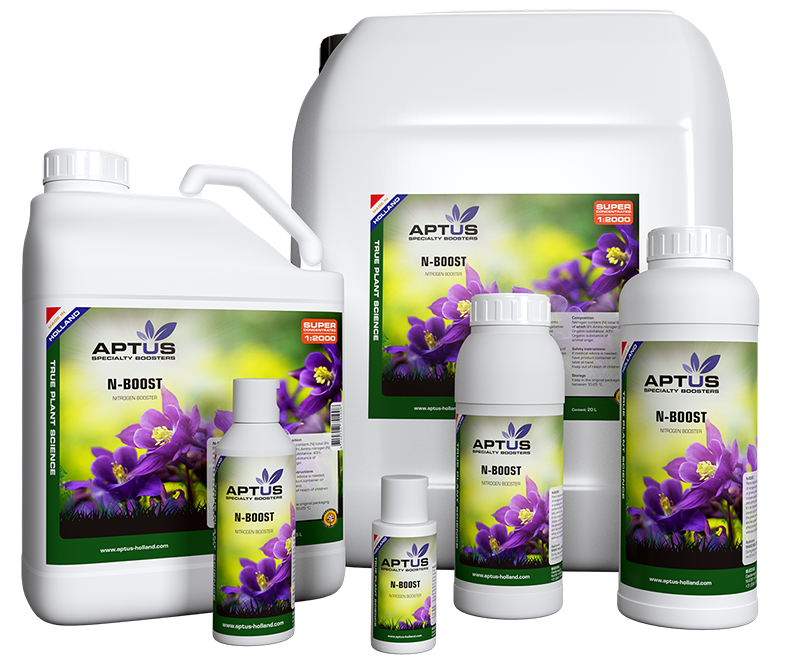 // NITROGEN BOOSTER
N-Boost
Plants have a large demand for nitrogen during the vegetative or growth phase. N-Boost is a source of organic concentrated nitrogen and L-amino acids. N-Boost is fully water-soluble and leaves no residues. N-Boost is an organic product that stands out for the bioavailability of the growth-promoting substances. N-Boost has a powerful stimulating effect on the growth process and it also stimulates the soil. N-Boost gives you optimal support during the growth without risks of clogging.
How to use N-Boost
Use N-Boost throughout the growth phase.
Use 3 – 5 ml per 10 L of water.
Shake before use. Leaves no residue in the irrigation system.
Fully water-soluble.
N-Boost contains
Organic nitrogen (N)
L-amino acids
How N-Boost works
Organic nitrogen provided by L-amino acids increases vegetative growth without risk of burning or overdose
L-amino acids provide growth, biostimulation and boost bacteria populations
Tips from successful growers
Replace Startbooster as growth and root stimulator by N-Boost in drip systems to prevent clogging
N-Boost is fully water-soluble and does not leave any residue in drip systems
Do not use N-Boost in combination with Startbooster (in case nitrogen level in nutrition schedule is too high)